Shell Molding Process
As any experienced casting manufacturer can attest, there are many similarities between the shell molding process and the sand casting process. The two are similar in that molten metal is poured into an expendable mold for both processes. However, the shell molding process uses a reusable pattern for its expendable mold that allows for higher production rates.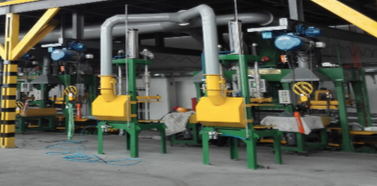 Benefits of the Shell Molding Process
The shell molding process is valuable for a number of reasons. As a reliable casting manufacturer, here are some of the benefits we have noticed from the process:
Ability to produce complex shapes and detail
Low labor and tooling costs
High production rate
High quality surface finish
Possibility of a short lead time
Our Shell Molding Capacity
As a steel casting manufacturer, North Casting's annual shell molding capacity is 6,600 tons (6,000 metric tonnes). The weight of the parts ranges from about 6.5 lbs (3 kg) to 44 lbs (20 kg).
Contact North Casting Today!
If you are in search of a dependable steel casting manufacturer, choose North Casting Industry. Contact us online or call 309-643-1902. Also, to learn more about the other types of casting processes we offer, please visit the following pages: Sand Casting & Lost Wax Casting.