Forging
North Casting is the only place you need for all of your steel foundry and part manufacturing needs. If the production of your steel parts requires forging to improve its strength and flexibility, North Casting can accommodate your needs.
Benefits of Forging
The forging process generates a myriad of sizes and shapes of steel parts and touts maximum part strength. Those who choose forging enjoy the following benefits:
Part Integrity
By mechanically altering heated metal under controlled conditions, forging produces a uniform grain size and flow. Preworking forged stock also helps refine structure and remove porosity, which delivers directional strength later on. By eliminating internal voids and gas pockets, forging provides better uniformity in the structure of each part. In this way, steel parts can be forged to meet virtually any load, stress or impact requirement.
Better Grain Flow
When compared to the grain flow of a cast or machined bar, forging has a clear advantage. Unlike cast and machined bars, forged bars provide a grain flow that is designed to improve ductility and strength while increasing fatigue resistance.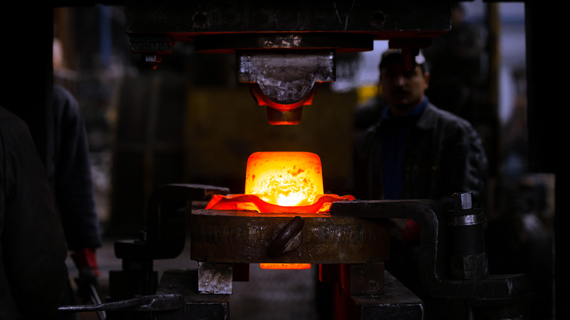 Part Flexibility
Steel parts can range in size from a single pound to 10 tons. In the same way, the shape design of a part is just as versatile—ranging from a simple bar to complex custom shapes.
Cost Reduction
Companies that use the forging process to produce steel parts can expect to save in material costs and reduced rejection rates when compared to other processes.
Contact North Casting Today!
See the difference in product quality and process control with North Casting. For all of your steel manufacturing needs, including forging, choose North Casting Industry. Contact us online or call 309-643-1902.
For more about our specialized steel casting service, visit our pages on Casting: Investment Casting, Sand Casting & Shell Molding.For more on our secondary services, visit the following pages: Machining, Heat Treat and Painting.